KAY DP - Powder
KDP Diamond Powders offer the ultimate in superior strength metal bond powders which allows you to take on the toughest metal bond applications. The KDP lineup of industrial diamond powders include the KDM high-performance metal bond powder, available in any micron or mesh size to meet your toughest application needs. With five decades of experience in micronizing industrial diamond, we believe that the KDP brand represents the finest quality line of industrial powders anywhere in the world.


KDM/Metal Bond — a full line of micron and mesh sizes are available for your toughest metal bond applications. Our monocrystalline type synthetic diamond is at the front of industry's standards where free cutting action and enhanced finishes are required. Characteristics like multi-edge cutting surfaces that hold up and won't peel away even under the most extreme conditions. A strong blocky octahedral cubic shape with pronounced cutting surfaces.

KDR/Resin Bond — designed for use with resin bonded wheels. Also useful for special applications where soft polishing and/or lapping is required. Characterized by it's friability, irregular, semi-blocky particle shape and rough indented particle surface.

NAT/Natural — when exceptional diamond formulas are required, we recommend our premium "NATURAL" diamond for it's unique characteristics — Hardness; a strong blocky well-shaped particle with various sharp, smooth edges. Crystalline structure; brilliant white in color with a carbon element in a cubic octahedral configuration and thermal properties allowing for an excellent insulator.

POLY/Polycrystalline — used where extreme polishing applications are required. Resembles carbonado.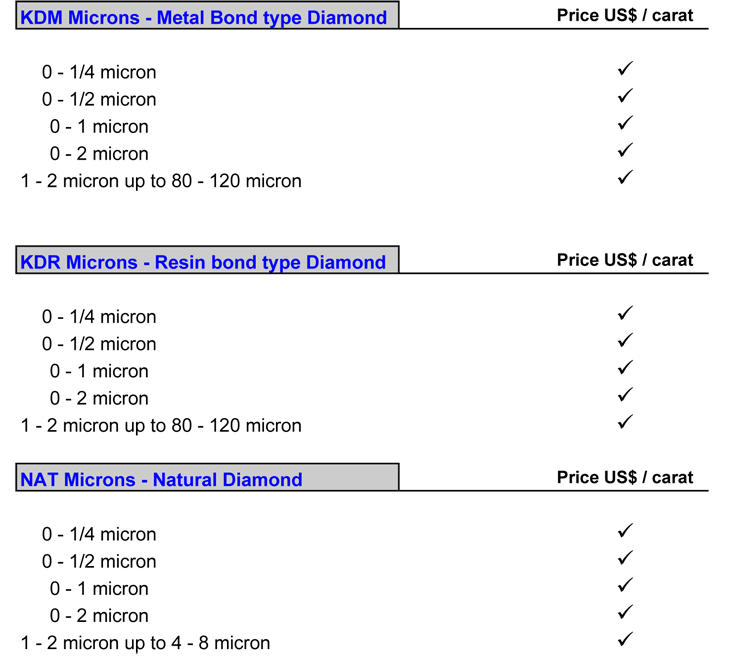 Prices on request